Internet's Role in a Green Future
August 07, 2012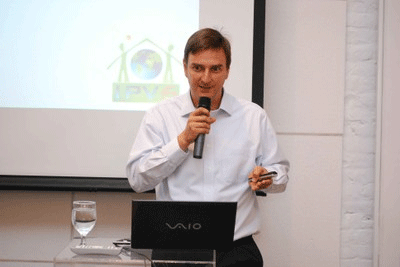 Students from Olivet University's information technology college attended a special seminar and panel discussion on the Internet's role in a green future.
Presented by Swissnex San Francisco, the event allowed distinguished speakers to present outlooks on how IoT, Internet of Things, assist with providing a greener world and more efficient energy saving buildings. The focus looks at the number of "things" connected to the Internet from computers, phones, tablets, to shoes and refrigerators.
Olivet Institute of Technology, OIT, students listened to speakers such as UC Berkeley's Professor David Auslander . Through technology and ingenuity, Prof. Auslander speaks of reducing energy consumption from US buildings, which eat up nearly 75% of the country's electricity supply.
Professors Dominique Genoud and Yann Bocchi from the University of Applied Sciences and Arts of Western Switzerland Valais presenting current solutions from Swiss and European researchers who are looking into the potential of new Internet Protocol, IPv6. The IoT6, Hobnet, and UDG projects seek to manage unique IP addresses.
The event was followed by a panel discussion, then a reception and networking opportunity. The audience received new insight on how the use of science and technology can help create a smarter and greener world. Swissnex's seminar was well received by OIT students who picked up inspiration for finding innovate ways in connecting Internet to new projects.
Swissnex San Francisco is a platform for the exchange of knowledge and ideas in science, education, art, and innovation. By offering public events and study tours, the organization highlights the best of North American and Swiss ingenuity along with networking professionals throughout the Bay Area and Silicon Valley.
For more information about Swissnex San Francisco, visit: http://swissnexsanfrancisco.org/